Lucy
Hero Information
| | |
| --- | --- |
| English Name: | Lucy |
| Korean Name: | 루시 |
| Japanese Name: | ルーシー |
| Race: | Elf |
| Gender: | Female |
| Occupation: | Shaman, Mystical Dancer |
| Voice: | Yashima Sarara |
Season 1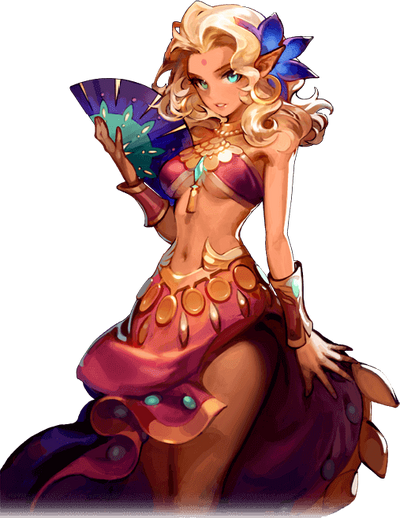 A dancer who wanders the continent alongside Yui. She has a cheerful personality and a positive outlook in any situation, so Yui admired her. She has excellent dance skills and spiritual ability. As she passed through the dark tomb, she felt as if someone was whispering in her ear. At first, she thought it was an illusion and ignored it, but continued to hear the whisper, and when she looked again, a soul was talking to her. After that, she decided to come into contact with various souls and heal the lost and cursed souls.
She became known for curing the cursed souls and for her abilties.
She is an enemy of Sylvia because she practices black magic and witchcraft which goes against Lucy's ways.
Dialogues