Rachel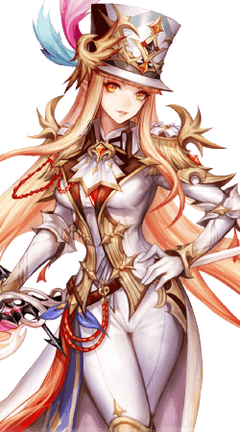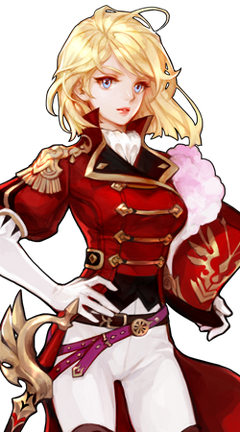 Hero Information
English Name:
Rachel Agni
Korean Name:
레이첼
Japanese Name:
レイチ工ル
Race:
Elf
Gender:
Female
Age:
31 (season 4 estimate)
Birthday:
February 7
Blood Type:
B
Height:
172 cm
Weight:
65 kg
Parent:
Blaze Agni (father, deceased)
Relatives:
Fai (ancestor),
Flame Agni (grandfather, deceased)
Occupation:
Empress of Blazing Desert,
Agni clan leader,
Member of Seven Knight
Voice:
Satomi Arai
So Yeon
Pet
Gaia's Gift
| | |
| --- | --- |
| Lv.42: | 6★ Seven Knight Selector |
| Lv.44: | 6★ Seven Knights Jewel Selector |
| Lv.46: | Fire of Resurrection |
| Lv.48: | 6★ Accessory Selector |
| Lv.50: | 4★ Richel |
Past Timeline
Rachel comes from the Agni family, a family which has ruled Agnia, a trade city in Blazing Desert, for generations. The descendants of this family are said to control fire. With her unparalleled intelligence, she was always the subject of much praise from her tutors. Nobles treated her as the prominent heir to the family. During her childhood, her education emphasized on the superiority of the nobles and because of this she took it as granted. However, upon meeting Eileene she began having different thoughts. Rachel valued her friendship with Eileene and was the only noble not to look down on her. She was also a close friend of Vanessa.
At the age of 10, Rachel's father was killed and the family lost everything. They relocated to the outskirts of the land and lived in a smaller place with no nobility system. Rachel felt strange and it was hard to get used to her new life. Sadly, a year later Rachel's grandfather was killed in a war for land. This is when she noticed the sword which killed her grandfather had the same symbol as the hairpin which Eileene had given her. Rachel fell into aristocratic supremacy thinking that all commoners were bad. Eventually she restored her family's name and became the head of the noble family again.
Season 1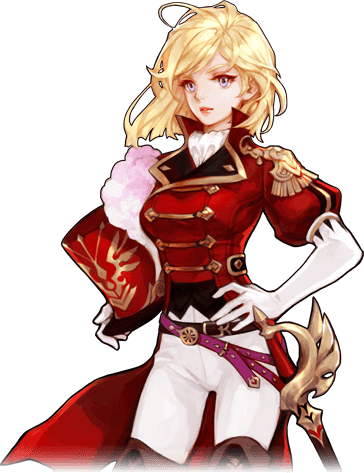 By learning how to control the flames, Rachel became the empress of the Blazing Desert. She gave herself the nickname of "Phoenix Incarnate". After losing her grandfather during the war between their family and the Guild of Dawn, she concluded that Eileene was not a friend but an enemy. She then seized to find Eileene's family to exact her revenge for her grandfather. She refused to acknowledge that Eileene had been her friend in childhood. She often argues with Eileene but Rudy tries to be the peacemaker. There was a big misunderstanding that Rachel's soldiers had ignored her request for help but in reality Rachel never even knew about them. The culprit was Dellons, he seems to have wanted to provoke a war between the Seven Knights.
When Giparang revealed Karin's identity, Rachel, along with the other knights except Rudy, came to the conclusion that Karin had to be sacrificed in order to save humanity. With all the knights in agreement, Rudy was left with no choice but to accept this choice.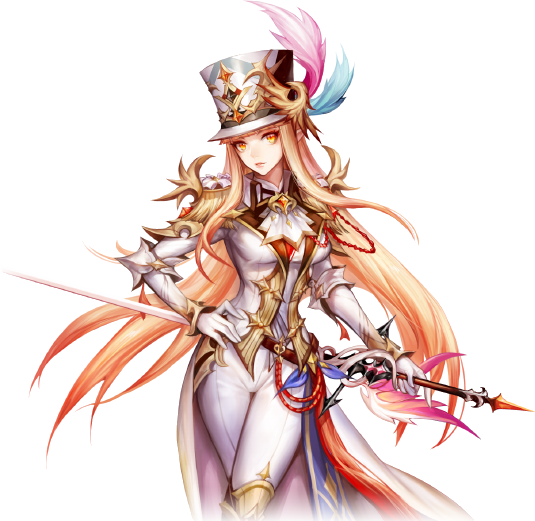 Season 2
She finally restores her friendship with Eileene, having learned that Eileene had never harbored ill intent towards her. Rachel almost dies due to the attacks of Gelidus, but she is saved by Vanessa, who is able to travel to the future thanks to her hourglass. She heads to the Heavenly Stairs with Rudy and Eileene after dealing with Gelidus. Rachel was formerly very trusting and confident in Rudy, but as time passed she began to question his leadership and decisions.
Season 3
It is revealed that Velika had tried stealing Rachel's ring which contained the power and spirit of the Agni family. After she defeated Velika, the ring returned to her. She traveled back to her manor to the tomb of Angi family. Rachel and Vanessa were very worried about Eileene who became to fall into despair due to her regrets of the past. Rachel talks to Jave and asks him to come find Eileene in the hope of helping her.
Season 4
Rachel appears alongside Kris and Vanessa in Episode 43. She becomes aware of Kris' behavior and changes in attitude and also talks to them about Rudy's potential whereabouts.
She and the Seven Knights join Gaia forces to the heavens to stop the continuous war between the Valkyries and Demon Lords.
Trivia
Favorite color: Red, green and blue.
Hates: Silver.
People she likes: Rudy (season 1), Eileene and Vanessa (season 2) Hates: Dellons.
Favorite food: Pizza and beer but hates lamb.
Favorite animals: Cats, frogs and small birds.
Hates: Scorpions and cockroaches.
Personality: She was originally addicted to the idea of aristocratic supremacy. She seemed to have class prejudice and obsessive compulsions. In order to protect the honor of nobility, Rachel tries to carry out her duties and responsibilities vigorously. Her way of thinking was is a bit classist and bases everything on social class, ignoring the lower class. In season2 she finally escapes her aristocratic supremacy way of thinking. Rachel becomes more flexible in way of thinking but still has a sense of responsibility (noblesse oblige) as a noblewoman. She's now more cautious rather than immediately acting out her actions.
Her 5 star title was formerly 'Fiery Empress', later becoming 'Flame Ruler'. Her six star title was 'Phoenix lord' but was changed to 'Phoenix incarnate'.
She was voted the second most popular female character in a global popularity poll, losing only to Rin.
She is known to be one of the most useful PVE hero in both Korea and Global.
She was the last Seven Knight to awaken in the Korean server.
Her special hero summon (4 star design) has Rachel with red long hair and no hat.
There is a typo in her 4 star bio, Rachel is called royal but she's noble. She's also called to be the oldest child of the agni family, however, her webtoon mentions no siblings.
Dialogues
Community content is available under
CC-BY-SA
unless otherwise noted.