Name:
Yeonhee
Race:
Human
Gender:
Female
Age:
39 (season 2)
Blood:
Unknown
Height:
1.52 m
Weight:
41 kg
Birthday:
October 19
Parents:
father,
mother (deceased)
Siblings:
Unknown
Spouse:
Unknown
Children:
Unknown
Relatives:
Unknown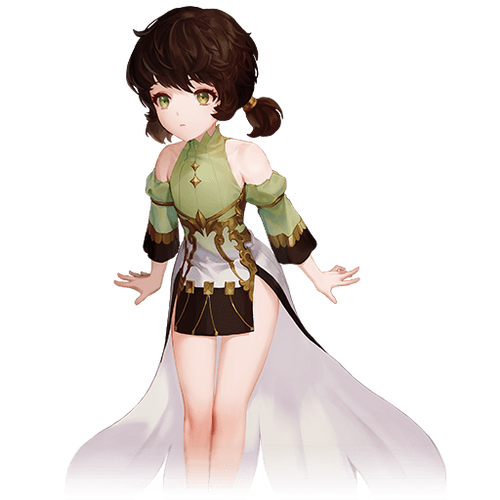 She is not present.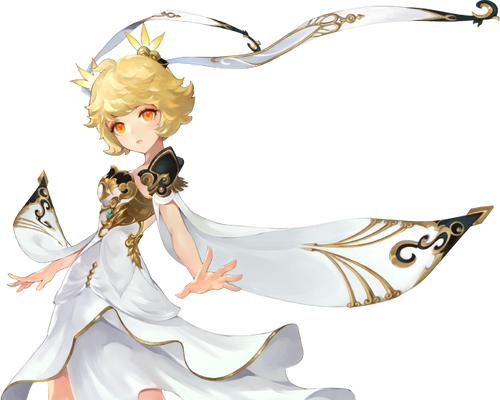 Yeonhee is woken up of her deep sleep in the beginning of the war of destruction, so she ends everything in her path. The people saw her as their savior due to ending the war and she became their lord. She is from another world and came the Seven Knight's world to end a war, but when she came, the war had finished and another war has started. She recruits the Dark Knights to help her end future wars but they are not allies. Yeonhee has extreme views as she is willing to end the whole world to prevent chaos caused by the Dark Knights and due to the noise.
She is a superior of Mercure, a Dark Knight, but Mercure doesn't respect Yeonhee so much, but he has more respect for Platin. Yeonhee and Night Crows have a hostile relationship as Teo tries to stop her from ending the world and it seems they knew each other in the past. Orly doesn't like Yeonhee and doesn't want her to be involved with Teo's goals.
She awakens through a nightmare she is having involving her mother and father. Dellons helps her get through the nightmare and it seems that Yeonhee can now relate to what Dellons has experienced. (Dellons relived the death of Claudia for many years, similar to an endless but realistic nightmare, hoping to save Claudia but with no success). Dellons and Yeonhee leave together to finally end the war and finish everything.
Weapons & Armor
Edit
| | | |
| --- | --- | --- |
| Yeonhee's Golden White Crown | Awakened Yeonhee's Golden White Crown | Transcended Yeonhee's Golden White Crown |
| | | |
| --- | --- | --- |
| Yeonhee's Golden White Robe | Awakened Yeonhee's Golden White Robe | Transcended Yeonhee's Golden White Robe |
Exclusive Item
Edit

Yeonhee DI
(unreleased)
Dialogues
Edit
Chief Mechanic
+100
+20
+10




High Wave Alert
+100
+20
+10




Summer Fun
+100
+20
+10




Destroyer of the Abyss
+300
+50
+30




Sleepyhead Maid
+100
+20
+10




Guild Guardian
+100
+20
+10




Blue Plum Blossom
+100
+20
+10
Unreleased Costumes
Edit
Mini Mini Evening
+100
+20
+10




Temptress Moon Butterfly
+200
+40
+20
Dark Scratch
+300
+60
+30